Syro-Malabar Dubai Executive Committee 2022-2024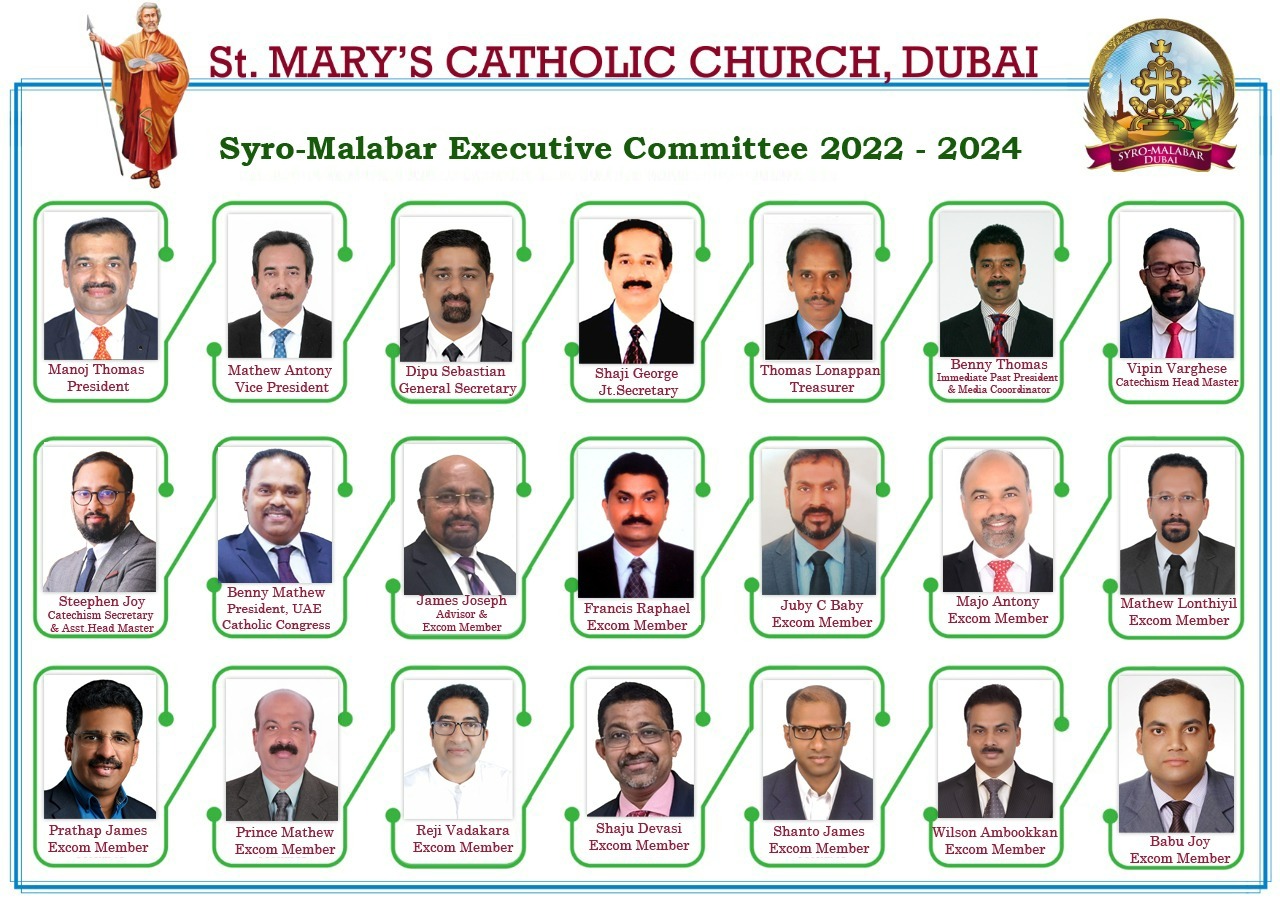 Volunteers
Precisely because Syro-Malabar Catholic Church endeavors to answer the needs of a modern society characterized by depersonalization, materialism, consumerism mentality it must develop into an authentically formational school. It must develop persons who are responsible and inner-directed, capable of choosing freely the truth, the good, and the beautiful. The school is an institution where young people gradually learn to open themselves up to life as it is, and to create in themselves a definite attitude to life that is positive and creative. A school is not only a place where the young is given a choice of intellectual values, but also a place where the child experiences an array of values actively lived by the members of the school community and communicated through interpersonal and sincere relationships among its members. Individual and corporative adherence to the outlook on life permeates the school.
COMMITMENT TO MISSION - the Syro-Malabar Catholic Church student has a unique mission, a LIFE PURPOSE, to make the world a better place to live in by the human family and remains faithful, responsible, compassionate, and humble in the pursuit of this mission.
COMMUNITY BUILDING - the Syro-Malabar Catholic Church student is a RESPONSIBLE and PRODUCTIVE FAMILY MEMBER and GLOBAL CITIZEN concerned with the practice of collaboration, cooperation, team work, and unity among members of the community built on the foundation of honesty, integrity, trust, respect, equality in diversity, tolerance, and forgiveness; enthused with the promotion of life and dignity of all peoples; activated by the advancement of justice, peace, and protection of the environment. As the students grow sharing hopes, dreams and service experiences and as families become connected, the bonds of service and compassion that hold the school community together become stronger.
GIFTS/TALENTS DEVELOPMENT - the Syro-Malabar Catholic Church student develops his/her GIFTS/ TALENTS for the service of the common good, locally and globally; strives to grow and improve daily in pursuit of excellence, the better and finer things, and the final good; seeks to develop love for learning in an atmosphere of openness to change, self-discipline, and collaboration.
CHARITY (LOVE) - the Syro-Malabar Catholic Church student is caring, loving, hospitable, patient, merciful, and charitable to all especially the economically, physically, emotionally challenged and the like.